Providing real value
Our company was formed in the year 2000, and holding high the "quality first principle" in article precision part processing area, has built up layers of trust and reliability.Because of that, being given voices from people from many companies and steadily making achievements repeatedly, we are here today.
Many of the cutting processed parts that our company manufactures are used in a lot of functional objects such as vehicles, household appliances, sewing machines, and many parts that effectively become finished products serve as a life function as one portion of finished goods without ever meeting human eyes. "Manufacturing that is putting forth the real value where it's not possible to see" We believe this is our mission, as well as our pride.
Staying a company that all employees are able to have dreams in working at, even when eras and generations come and go, with the never changing mission of providing real value in our hearts and putting focus on new technologies, we want to be a company that continues to be a contribution to society.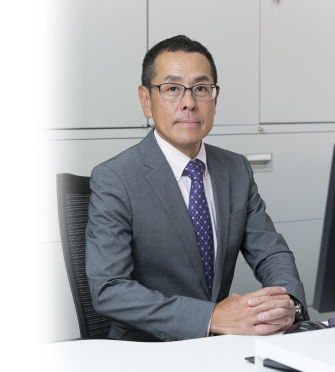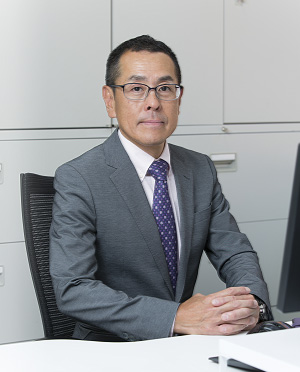 | | |
| --- | --- |
| Company name | GOTO SEIMETSU Co., Ltd |
| Representative name | Shinken Goto |
| Location | 109 HIGASHISHIMOSHIRO MEICHI ICHINOMIYA-SHI AICHI 494-0012JAPAN |
| TEL | 0586-69-6000 |
| FAX | 0586-68-3788 |
| Established | July 7, 2000 |
| Capital | 5 million yen |
| Industry | Metal cutting work by NC combined automatic lathe |
| Main product | For automobile use: switch part, ABS break part, AT part, light electricity household appliance part, industrial sewing machine part, etc |
Factory

<Head office/factory>
109 HIGASHISHIMOSHIRO MEICHI ICHINOMIYA-SHI AICHI
494-0012JAPAN
TEL 0586-69-6000 FAX 0586-68-3788
Ground area 960㎡ Building area 430㎡

<Second factory>
23-1 SHAGUJI MEICHI ICHINOMIYA-SHI AICHI
494-0012JAPAN
TEL 0586-67-2880 FAX 0586-67-2881
Ground area 735㎡ Building area 436㎡

<Wakamiya factory>
78 WAKAMIYAMAE NISHIHAGIWARA ICHINOMIYA-SHI AICHI
494-0011JAPAN
TEL 0586-67-5030 FAX 0586-67-5031
Ground area 1676.6㎡ Building area 1257㎡

<WakamiyaWest factory>
Ground area 1600㎡ Building area 3200㎡

Number of employees

60 persons (August, 2017 current) *Including contract employees and part-time workers

Bank of account
(Japanese syllabary order)

THE ICHII SHINKIN BANK
Ogaki Kyoritsu bank Ltd.
The Juroku Bank, Ltd
THE BANK OF NAGOYA,Ltd.
Japan Finance Corporation.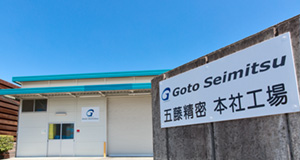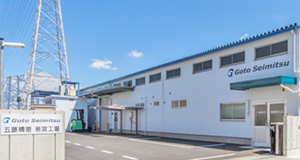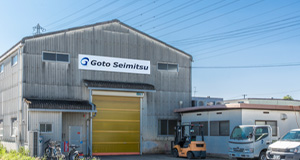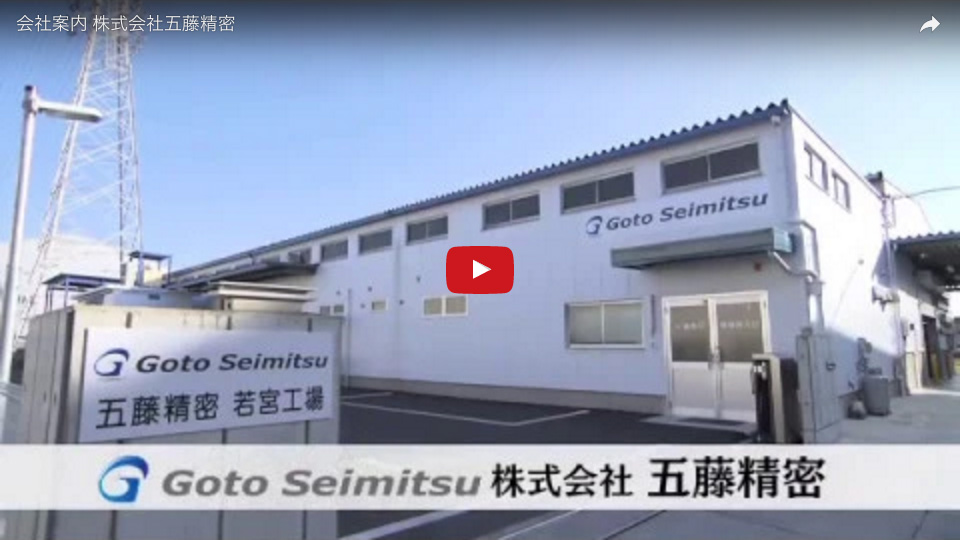 動画で見る五藤精密
一宮市ケーブルテレビ(ICC)にて、弊社の紹介番組が放送されました。
わたしたち五藤精密の取り組みや、工場内での作業の様子を動画でご覧いただけます。


2000年 7月

(旧尾西市)明地字南茱之木19-2にて、
カム式自動旋盤・NC自動旋盤を使った自動車部品、工業ミシン部品製造を目的とした有限会社五藤精密を創業

2000年 10月

複合加工製品製造開始

2004年 2月

一宮市明地字東下城109に自社工場建設・移転
カム式自動旋盤を全廃し、完全NC化とする

2007年 3月
ISO9001:2000 JQA-QMA13159、14001:2004 JQA-EM5729 取得
2011年 10月

得意先増産計画のため、第二工場稼働

2015年 7月

得意先新規・増産計画のため、若宮工場、新設稼働

2016年 2月
株式会社五藤精密に法人格変更(旧有限会社五藤精密)
2016年 11月
得意先サークル(IE・QC・業務)改善活動大会にて特別賞受賞
2016年 12月
一宮市ケーブルテレビ(ICC)にて紹介番組放送

お見積り、ご依頼、求人情報、その他ご意見などお気軽にお問い合わせください。
【 受付時間 】 平日 8:30 〜 17:30
TEL.0586-69-6000 / FAX.0586-68-3788メールでのお問い合わせはこちら